Effective Video conferencing
For Job Interviews or for Life
Apart from wearing masks in shops, it's the single biggest behavioural change we've all had to embrace since March 2020. Videoconferencing is not optional. It's essential. And it's not going away. Even when the Covid threat has long-since passed, we'll all be Zooming (or Google Meeting or Teamsing) on a regular basis.
But all Zooms are not created equal. In the same way that formal meetings and casual chats with friends are different, there are Zooms and there are Zooms. A one-fits-all approach won't do. You need to know the etiquette and the appropriate behaviours. And most importantly, you need to get real warmth into your video conferences – how to make a human connection in a virtual room.
It's about the technology, of course, and that's easily sorted. It's about your backdrop too. But it's about so much more than these things. Good communication was always a challenge but now we need to be excellent communicators. Why? Because there are more barriers to communication than ever before.
If you want to get a promotion or change to the new role of your dreams, will your current videoconferencing technique swing it for you? Will you impress the interview panel? Will you be able to channel all your knowledge, experience, charisma and charm into the webcam in a way that will convince people you're the right person for the job?

I've helped people do exactly that. Here are some testimonials:
"Grett was an excellent coach for my first online interview. Her advice and guidance greatly improved my communications skills and gave me the confidence to present myself in this unfamiliar forum. Her vast media experience enabled her to offer a wide variety of tips related to how I introduced myself and non-verbal communication. I have no doubt her input greatly assisted in my success."
"Thank you Grett for your help and gentle guidance with the videos I made as part of my job application. Your coaching made a huge difference to my performance – it was like night and day. I would recommend your service!"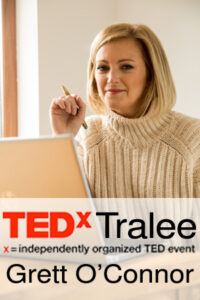 In fact, I'm convinced that there's no going back – we all need to come across well in videoconferences from now on.
We all need to understand the power of the lens to build real human connection in a virtual world.
And I'll be giving a TEDx talk on this topic at TEDxTralee on October 15th 2021.
Can't wait!
"The training was excellent and Grett's insights and knowledge provided me with fresh perspectives. I now feel more confident and at ease when engaging with the media."
"I couldn't recommend My Media highly enough. Grett's incredible communication skills, imagination and tireless effort, took our run of the mill powerpoint presentation and translated it to an engaging video piece which we were delighted to launch."
"Grett was an excellent coach for my first online interview. Her advice and guidance greatly improved my communications skills and gave me the confidence to present myself in this unfamiliar forum. I have no doubt her input greatly assisted in my success."