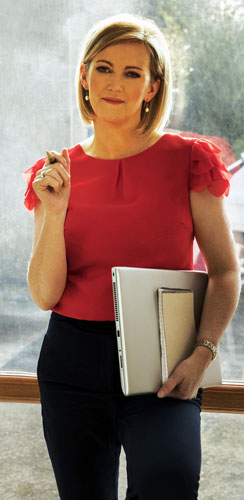 Grett O'Connor Documentary Producer & Presenter
Storytelling using pictures is my passion and I love working on documentaries.
Hi there, I'm Grett (it's short for Margaret) and I'm originally from North Kerry but now I live in County Cork with my husband Ger and our five children. We have four border collies, four goats, ten hens and a shedful of dairy cows.
I'd be lying if I said I helped out with the animals – I am too busy chasing my tail indoors – cooking, battling to keep on top of the laundry situation and keeping track of my crew, aged 12 – 19.
I love English but I'm also fluent in Irish. For 20 years, I was a television journalist with TG4 and RTE based in Cork. As well as my news reporting work, I made four Irish-language documentaries for TG4 during that time. I also presented the late night political panel discussion show 'The Late Debate' on RTE Radio One for two seasons.
I left RTE Cork in 2018 and set up my own business, My Media, based in Macroom. Since Covid came along, I've been working from home – mainly producing or presenting videos and giving media or communication training courses over Zoom.
I love working on a really powerful video – whether it's doing the work behind the scenes to make the finished product exactly what the client wants, or standing in front of the camera myself to get the right message across.
I spent years standing in front of cameras every day. I know the tips and tricks that make the difference.
And I also know the power of good videography in telling a story – they say a picture tells a thousand words but a minute of excellent video speaks volumes.
It's my privilege to help people bring their stories to life, every day.
Skills, Experience, Contacts with a fantastic work ethic.
Part of bringing stories to life is building relationships.
Check out the fantastic testimonials from my clients
Over 20 years with TG4 and RTE and now working independently as a presenter and producer.